About Us
Standard Chair of Gardner is a family-owned business that has for three generations, since the latter stages of the Great Depression, been creating chairs and rockers of superb quality. In fact, that's all we do. Today, we manufacture college chairs for almost every single top college and university in the country.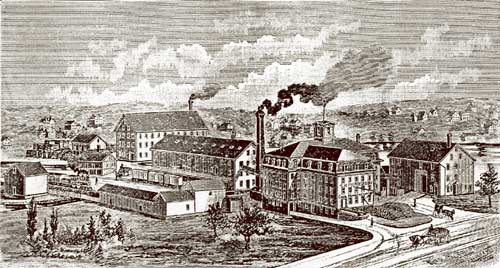 Artist's rendering of Gardner Standard Chair factory from the 1860's
The chairs and lamps are made in a factory whose history dates back to 1837. Our craftsmen have learned their trade in many instances from several generations of chair makers. In addition to the three generations of family running the company in this classic New England town, a number of local craftsmen who have been with Standard Chair for decades take great pride in creating these heirloom pieces and college chairs.
This is not to say that the chairs are just antiques; far from it. You'll find our chairs in the offices of many notable American institutions and in the home offices of many citizens from all walks of life.
And because we're a family-owned business, we care even more that our products and your satisfaction with them are of the highest order. After all, it reflects not just on our company, but on our family.
That's why when you talk about us, we must respectfully refer to our many, many satisfied customers who made Standard Chair of Gardner the premier college chair manufacturer in the country today. For a list of some of our customers, see the section, Our Customers.