About The Seals: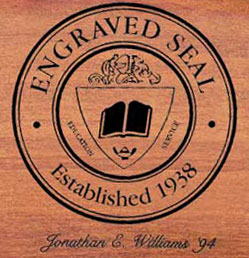 Deeply Etched, Intricately Engraved Laser Seals
That Won't Wear Out
In 1989, we began using a unique laser engraving technique (U.S. Patent No. 4,947,022) here at Standard Chair of Gardner. Since then, thousands of people have been the recipients of lasered chairs (or lamps) engraved by our proprietary process.
One reason for the popularity of our lasered college chairs is that we are able to reproduce a seal in extraordinarily intricate detail on the crown of a chair (or on a lamp). And each and every one of those lasered college seals will not wear out. We guarantee it.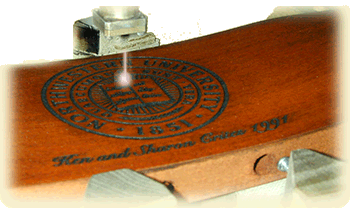 The engraving of each seal is a unique step in the production line. Each seal must be first reproduced from an original piece of artwork or a copy of your seal. We scan that image into our computer, check to make sure it is a crystal clear image, and then give the go-ahead to print the image. The computer programs the laser engraver's movements precisely. The laser then engraves the image into the college chair - exactly as it appeared in your original image.
No matter how intricate the artwork on your seal or crest or coat of arms…no matter what the type style…our laser engraving technique will match it precisely. And, it will never wear out.
Seals We've Engraved
Here are some samples of actual seals that we've produced for our customers. Note the fineness of the lines and the variations of designs. Many of these seals are exquisite, as you can see.





Yale University






U.S. Marine Corps.






Columbia University






University of Florida






Spokane Area Chamber of Commerce
For more samples, see our list of customers in the section, About Us.
Personalization
The name of the recipient of the college chair (or lamp) and class year (if applicable) is printed in script. We have found that this highlights the person's name making the college chair gift all the more special. While some of our customers also add the name of an institution or department, many choose simply to have the recipient's name on the college chair. We print department information in block letters as you can see on the University of Washington seal below.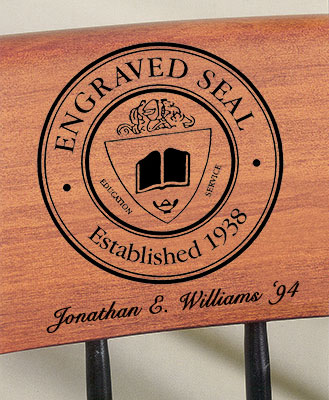 There is a great deal of leeway in the added personalization you can choose. For college chairs or school chairs, people often add the name of the recipient, their year of graduation, and any special department or school they attended within the university. For those in organizations or businesses, people sometimes include the term of service. You can also add a message. The entire personalization runs from one to three lines of up 30 characters including spaces per line - or more if you have a long inscription.
It's all designed to give you the flexibility to create a personalized inscription that will mean the most to the recipient. For more details on personalizing a chair or lamp, call us at 1-800-352-5885. One of our customer service representatives will be glad to help advise you on the best inscription.



Princeton



Rotary International




PGA




2 line personalization



University of Washington
3 line personalization
Artwork
If you already have the artwork for your seal…
Go to the How to Order section for a quick review of what you'll need when you order and then call us at 1-800-352-5885. We'll do the rest.
If you don't yet have any artwork for your seal…
We can create one for you (extra artwork charges may apply). We have designed seals for thousands of schools and institutions. And our art department is expert at matching your needs and preferences with a broad array of design choices.
Take a look at the How to Order section, then call us at 1-800-352-5885 and we'll get started right away on creating a seal that everyone at your institution can be proud - especially the recipient of the chair (or lamp)!